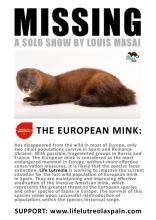 Muralist and activist Louis Masai calls for action: How to act now to save endangered species
In his latest immersive exhibition, Missing, intrepid artist and environmentalist Louis Masai tackles topical endangerment issues, calling for action in a moment of global crisis.
Missing depicts 20 endangered species across the world and specifically ties them to their native regions. From the South African penguin to the humble bumble bee at risk on our very soil, the exhibition features brand new sculptures, installations and paintings, some of which recreate site-specific large-scale murals Masai has created worldwide, including the Red Panda mural in Shanghai and the Mountain Tapir in Ecuador.
Missing will tie each represented species to an organisation specifically invested in protecting that species, giving its audience the tools to take matters into their own hands. Masai will highlight the work of LIFE LUTREOLA SPAIN for European Mink.
Speaking about the exhibition, Masai says: "Climate change is in full effect, with one of the major factors being the '6th Mass Extinction'. Species are becoming extinct or missing in our biodiverse world. This is a real issue that we face as humans, and as an artist, I feel it's my duty to draw attention to this issue. Through my work I hope to remind people of the urgency we face, highlighting our place amongst creatures who are a critical part of our delicate ecosystem"
Missing will be in The Crypt Gallery, Euston. The exhibition will run from Friday 25th May to Sunday 27th May 2018